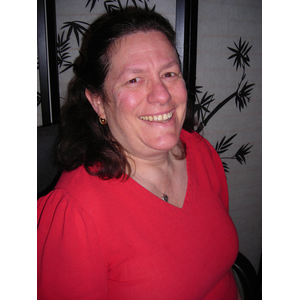 Professional Genealogist at Ancestral Discoveries
Business Name

Ancestral Discoveries

Non-Research Specialties

Compiler/Indexer
Conference Planner
Editor
Lecturer/Presenter - On-site
Lecturer/Presenter - Virtual
Transcriber
Translator

Research Specialties

African American
Court Records
Emigration & Immigration
Forensic
Heir Searcher
Jewish
Migration
Naturalization

Research Counties

Alameda County, California, United States
Clackamas County, Oregon, United States
Clark County, Washington, United States
Contra Costa County, California, United States
Multnomah County, Oregon, United States
Washington County, Oregon, United States

Research Provinces / States

California, United States
Oregon, United States
Texas, United States

Research Countries

England
Italy
Russia
United States

Research Time Periods

19th Century
20th Century
21st Century
Gresham, Oregon, United States
I have researched my own family since 1975 and conducted research for others since 2005. I am the editor of one genealogy periodical. I am a board member, programming director, and publicity director of the San Francisco Bay Area Jewish Genealogical Society. I have been on the staff of LDS FamilySearch Centers since 2000.
B.A. in French with minors in Spanish and Russian. Graduate studies in library and information science, computer programming, and music. I have worked as an editor, indexer, and translator since 1983.
Services
Family history research for 18th-21st centuries. Specializing in Jewish, black American, newspapers, dual citizenship, and forensic genealogy. I will help you learn more about your family and place your ancestors in their historical context. I offer editing, desktop publishing, indexing, transcription, and translation services (primarily Spanish, French, and Russian).
Geographic Specialties
CA, IL, IA, NJ, NY, TX, West, Chicago, Houston, Los Angeles, San Francisco, Russia
Degrees

BA (French (Spanish & Russian minors))

Languages

French, Spanish, Russian, Portuguese, Italian

Repositories

Archdiocese of Portland in Oregon Archives,Clackamas County Family History Society,Oregon Historical Society,Oregon State Archives,Washington County (Oregon) Museum,Willamette Heritage Center,Yamhill County Historical Society

Testimonials

"My genealogy project had ground to a halt before I started working with Janice. Then it accelerated to warp speed, and here I am submitting my application for citizenship, much sooner and with better documentation than I ever imagined. I would never have arrived to this point without Janice s help, for which I am very grateful." - Brian R.
"Thank you for all the work you've been putting into researching my family! It is exciting to see pieces of their lives and learn where they came from." - Wendy B.
"I have included all your research. It made quite a difference." - Daniel K.
"EVERYONE appreciated all of the excellent information that you provided. Several people, with years of genealogy experience, came up and congratulated me for finding you. ... Your talk was detailed and well organized, and answered everyone s questions before they could even think of them. Your handout was excellent ...."

Lectures

Using Online Newspapers for Genealogical Research
Using Online Historical Black Newspapers for Genealogical Research
Using Online Historical Jewish Newspapers for Genealogical Research
Reconstructing Family Information When You Start with Almost Nothing
Finding the Women in Your Family Tree
Introduction to Jewish Genealogy
Jewish Genealogy: Why Is This Research Different from All Other Research?
Online Resources for Jewish Genealogy
Introduction to Genealogy
Freedmen's Bureau 2.0: A Better Way to Do Slave Research
Finding Family Members in Freedman's Bank Records
Vital Records and the Calendar Change of 1752
So You Found Them in the Census: That's Only the Start
Finding Religious Records
Using City (and Other) Directories in Your Research
What's Buried in Cemetery Records
Probate Records Can Prove Family Connections
Digging Deeper on FamilySearch
Irish Research Online
They Died in San Francisco: A Little Used Source of Pre-1906 Deaths
Using City (and Other) Directories in Your Research
Immigration and Naturalization Research
But It Wasn't a Foreign Language to Your Ancestors
Researching LGBT Relatives
Copyright Issues for Genealogy
Citing Your Sources in Genealogical Research
Reading and Transcribing American Colonial Handwriting
Follow a Family through 150 Years of Newspapers
Using the Subscription Newspaper Web Sites at LDS FamilySearch Centers
A Tale of Two Brothers: The Patriot and the Outlaw
Amazing Things You Can Find in the Newspaper about Your Ancestors
Finding and Following the Paths of My Cuban Cousins
Using Finding Aids for Jewish Records to Help Research Non-Jewish Ancestors

Publications

"Where I'm From", Santa Clara County Connections, Santa Clara County Historical and Genealogical Society, Fall 2016
"Unspoken Tragedies" (second author with Angela Williams Brown), The Baobab Tree, AAGSNC, Summer 2016
"Finding and Following the Paths of My Cuban Cousins", Avotaynu, Avotaynu, Inc., Summer 2016
"A Black Baker at the 1915 Panama Pacific International Exposition", The Baobab Tree, AAGSNC, Spring 2015
"When I Almost Cooked Dinner for Leonard Nimoy", ZichronNote, SFBAJGS, May 2015
"Zalmon Reuben Orlowsky: Portrait of a World War I Veteran", California Nugget, California Genealogical Society, December 2014
"The Chaotic Saga of Oil in Galicia" (translator), The Galitzianer, Gesher Galicia, December 2012; original article by Jerome Segal and Renaud Lavergne, "L'Epopee oubliee du petrole de Galicie", Geo-Histoire, October November 2012
"International Jewish Genealogy Month", ZichronNote, San Francisco Bay Area Jewish Genealogical Society, November 2010 (with Jeremy Frankel)
"Napoleon's Finest", Roots-Key, Jewish Genealogical Society of Los Angeles, Summer/Fall 2006
"The Value of Family History Travel", ZichronNote, San Francisco Bay Area Jewish Genealogical Society", February 2005
"Clues in Religious Traditions", More Brickwall Solutions to Genealogy Problems, Moorshead Magazines Ltd., 2004
"Keep Talking to Relatives!", More Brickwall Solutions to Genealogy Problems, Moorshead Magazines Ltd., 2004
"Lucky Thirteen", 500 Brickwall Solutions to Genealogy Problems, Moorshead Magazines Ltd., 2003
Affiliations

Genealogical Speakers Guild ; Council for the Advancement of Forensic Genealogy ; San Francisco Bay Area Jewish Genealogical Society ; Jewish Genealogical Society of Oregon ; Genealogical Forum of Oregon African American Special Interest Group

Blog

ancestraldiscoveries.com/
| | |
| --- | --- |
| Phone: | (503) 381-2654 |
| Email: | janicemsj@gmail.com |
| Street Address: | 1009 NE 196th Avenue |
| Address 2: | |
| City: | Gresham |
| State/Province: | Oregon |
| Country: | United States |
| Zip/Postal Code: | 97230 |