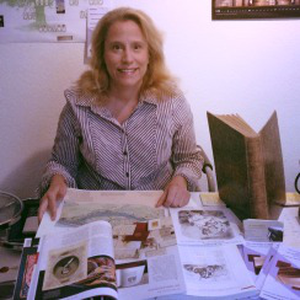 Dr. Cornelia Pohlmann - Genealogical Research and Heir Research
Business Name

Dr. Cornelia Pohlmann - Genealogical Research and Heir Research

Non-Research Specialties

Archivist
Historian
Project Manager
Transcriber
Translator
Travel & Tour Planner

Research Specialties

Catholic
Emigration & Immigration
Federal Records
Heir Searcher
Holocaust
Huguenot
Jewish
Lutheran
Military

Research Countries

Germany

Research Time Periods

17th Century
18th Century
19th Century
20th Century
For more than 20 years I offer German genealogical and historical research services for individual and corporate clients.
I finished my studies at the University of Bamberg and the University of Edinburgh with a PhD. Afterwards I worked for many years as an exhibition researcher - e.g. Ellis Island Immigration Museum.
Since 2002 I am working as a freelance genealogist and author of family chronicles for German and international companies. Furthermore I did research for individual clients from Europe, USA, Canada and Australia.
I have respected experience in heir search.
My research areas include Germany and the former German Eastern Provinces like East Prussia, West Prussia, Pomerania, Posen and Silesia.
Services

I do research in church records, civil records, land records, emigration records, military records, school records, welfare and poor house records, taxation rolls, newspapers, phone directories, local chronicles and many more.
I offer personal research consultations via Skype and Hangouts.
I have connections to excellent researchers in Poland.
Geographic Specialties
Germany, Poland, Eastern Europe
Degrees

Ph.D. (History, Communication Sciences, European Ethnology)

Languages

English, German (native), old German handwriting, Latin

Publications

I wrote articles about the history of German emigration to the United States from the 17th to the 20th century. I also was invited as an expert in a TV documentation about the German- American piano maker Henry E. Steinway.
Affiliations

I am a member of the German Society for Overseas History, the German Society for Computer Genealogy e.V., the Association for Family Research in Pomerania and the Association for Family History Research in East and West Prussia.
| | |
| --- | --- |
| Phone: | 049163/4207887 |
| Email: | cornelia.pohl@gmx.de |
| Street Address: | Kamillenstraße 50 B |
| Address 2: | |
| City: | Berlin |
| State/Province: | Berlin |
| Country: | Germany |
| Zip/Postal Code: | 12203 |