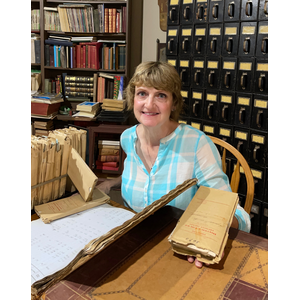 Genealogy Researcher - Southwest Iowa and Southeast Nebraska
Business Name

SFB Family Research

Non-Research Specialties

Historian
Photographer

Research Counties

Fremont County, Iowa, United States
Mills County, Iowa, United States
Otoe County, Nebraska, United States
Page County, Iowa, United States

Research Time Periods

19th Century
20th Century
Sidney, Iowa, United States
Sandra Bengtson lives in Sidney, Iowa and has assisted individuals with their family genealogy and researched at the Fremont County Courthouse since 2012. Sandra has also performed research for historians, authors, and professional companies looking for heirs relating to estates.
Services
Sandra does genealogical and/or historical research. She mainly specializes in research and retrieval of documents at the Fremont County Courthouse but will also research at Page County, Iowa; Mills County, Iowa; and Otoe County, Nebraska. When researching a family, Sandra uses every resource available. After checking vital records, probate/will filings, land records, court records, tax assessment rolls, cemetery records, newspaper archives, etc. she can compile a report that gives a story and insight into your ancestor's life. Following research, all clients receive a written report of findings, along with any relevant copies of documents and pictures.
Geographic Specialties
IA, NE, Midwest
Repositories

Fremont County Historical Society, Fremont County, Iowa Courthouse, Page County Iowa Courthouse; Mills County, Iowa Courthouse; Otoe County Nebraska Courthouse

Testimonials

KMA Radio Interview - April 2017

http://www.kmaland.com/ag/bengtson-digs-deep-to-find-family-histories-in-fremont-county/article_5324cc1e-1bd5-11e7-9e40-47927709ee9a.html

Testimonial from CeCe Moore - Genetic Genealogist - I want to publicly thank Sandra Folkes Bengtson, Fremont County, Iowa research extraordinaire, for finding the death notice of my second great grandmother, Mary Hewitt Proctor, from 1892. It means so much to me. The notice confirmed the family oral history surrounding her death and many dates passed down in my family that turned out to be exactly correct, but had no documents to substantiate them. The notice also added new information like the exact location that she was born in New York and when she moved to Gallatin, Illinois and Sidney, Iowa. Thank you so much, Sandra!

Lectures

Sandra held a lecture on the "Settlements & Towns of Fremont County, Iowa" in September of 2019 at Iowa Western Community College.

She will hold another lecture there in September of 2020 on the "The Famous and Infamous of Fremont County". Exact date to be announced.

Publications

Sandra is the author of several short stories relating to Fremont County, Iowa history. The articles have been published in newspapers and are now included in the "View from the Attic" which was published by the Fremont County Historical Society in 2018.

https://sites.google.com/site/fremontcohs/events/untitledpost-2

Sandra also administers the Facebook page for the Fremont County Historical Society which tells about people and places in Fremont County's history.
Affiliations

Sandra is a member of the Iowa Genealogical Society and serves as their Region 16 Representative. She is also the president of the Fremont County Historical Society.
| | |
| --- | --- |
| Phone: | |
| Email: | sfbfamilyresearch@gmail.com |
| Street Address: | |
| Address 2: | PO Box 26 |
| City: | Sidney |
| State/Province: | Iowa |
| Country: | United States |
| Zip/Postal Code: | 51652 |