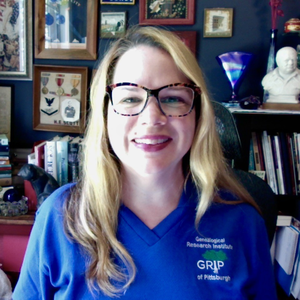 Historian & Genealogist
Business Name

RomaMaryGrace Historical Research

Non-Research Specialties

Author/Writer
Blogger
Historian
Instructor
Lecturer/Presenter - On-site
Lecturer/Presenter - Virtual
Oral Historian/Interviewer

Research Specialties

Cartography (maps)
Government Publications
Heir Searcher
Historical Sites
House Historian
Land Records
Military

Research Counties

Autauga County, Alabama, United States
Bullock County, Alabama, United States
Chambers County, Alabama, United States
Conecuh County, Alabama, United States
Coosa County, Alabama, United States
Elmore County, Alabama, United States
Lee County, Alabama, United States
Macon County, Alabama, United States
Montgomery County, Alabama, United States
Russell County, Alabama, United States
Tallapoosa County, Alabama, United States

Research Provinces / States

Alabama, United States
Kansas, United States
Missouri, United States

Research Time Periods

20th Century
Michelle L. Spencer began her family history odyssey as a teenager absorbing family stories from cherished friends and relatives. Her professional life blossomed elsewhere taking her from her Missouri roots to Washington, D.C., Germany, and Alabama, stopping at many foreign locales in between. A resident of Alabama for over sixteen years, she has learned to love the backroads and history of Alabama, almost as much as those in her native state.
Michelle has more than twenty-five years of speaking, research, and writing experience. Throughout her career she has spoken extensively on military history and international issues, as well as genealogical methods, tools, and techniques for finding ancestors and telling their stories. She is an avid collector of ephemera and weaving the history of things, places, and events into the stories of those who have gone before us.
Since 2014 she has co-authored more than fifty successful building/property nominations to the National Register of Historic Places conducting building and genealogical research across Alabama, Georgia, Kansas, Missouri, Nebraska, and Oklahoma, as well as Germany and the U.K. Her genealogical research for clients including two seasons of the Television Show Who Do You Think You Are? and the PBS Television Show Finding Your Roots. For more information see her website: romamarygrace.com.
Geographic Specialties
AL, GA, KS, MO, South, Midwest, Kansas City,
Degrees

Master of Science (Strategic Studies), Bachelor of Arts (German), Bachelor of Arts (International Relations)

Repositories

Alabama Department of Archives & History, Alabama Vital Records,Alabama Dept of Archives and History,All Courthouses in Mississippi, Georgia, Louisiana and Alabama

Lectures

1. Lure Your Ancestor out of the National Register of Historic Places
2. Don't Forget to Misspell! Getting the Most from Digital Newspaper Research
3. A Genealogist's Guide to Sanborn Maps
4. Researching Your Ancestor's Brick & Mortar Can Help Break Down Your Brick Wall
5. Using Postcards, Letters and Memorabilia to Unlock Your Family History
6. Grip, Grippe and the Spanish Lady: The 1918 Pandemic and Your Family Records
7. Using Unusual Government Documents to Discover Your Ancestor
8. Using City Directories to Fill in Historic Context: Two Case Studies
9. Research Your Family Business Using Sanborn Maps and Newspapers
10. City Directories: Google for a Different Generation
11. Sanborn Maps and City Directories: A Genealogist's Guide
12. Historic Context from Unusual Sources
13. Roma: A Small-Town Life (dinner talk)
14. Uncle Bud's Trunk (dinner talk)

Publications

Ms. Spencer writes a blog at romamarygrace.com. She has published several genealogy-related articles in state and county-level publications. Since 2014 she has co-authored more than fifty successful building/property nominations to State and National Register of Historic Places.
Affiliations

Member, Alabama Genealogical Society; Vice President, Missouri State Genealogical Association; Member, National Genealogical Society Member, Association of Professional Genealogists; Member, Genealogy Speakers Guild.

Blog

romamarygrace.com