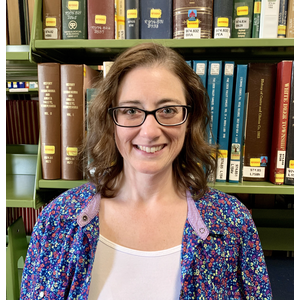 Genealogy Lecturing Services
Not Taking Clients

Check this if you are currently not taking new clients.

Business Name

Jeanette's Genealogy

Non-Research Specialties

Blogger
Instructor
Lecturer/Presenter - On-site
Lecturer/Presenter - Virtual
Librarian

Research Counties

Erie County, New York, United States
Niagara County, New York, United States
Orleans County, New York, United States

Research Provinces / States

New York, United States
Pennsylvania, United States

Research Time Periods

18th Century
19th Century
20th Century
Lockport, New York, United States
Jeanette lives in Lockport, NY and has been researching her family tree since 2002. She began lecturing at the North Tonawanda Public Library in 2011 and soon after formed the North Tonawanda Library Genealogy Club.
In 2013, she became a Board Member for the Niagara County Genealogical Society. She is also the society Vice President and the Program Chairperson. Jeanette became Chairman of the Board on March 2020.
Jeanette has proven her ancestry and joined many lineage societies including the: National Society of the Daughters of the American Revolution, First Families of Pennsylvania, National Society Descendants of American Farmers, and the National Society of Mayflower Descendants. She was elected as Chapter Registrar for her local Niagara Falls DAR Chapter in June 2020.
In the Fall of 2020, Jeanette became the Virtual Genealogical Society's (VGA) Corresponding Secretary and was elected to become a member of the Board for the Western New York Genealogical Society (WNYGS) starting January 2021.
Geographic Specialties
NY, PA, Mid-Atlantic
Educational Certificates
Mastering Genealogical Documentation with Tom Jones - GRIP June 2019
Practical Genetic Genealogy with Blaine Bettinger - GRIP June 2020
Mastering Genealogical Proof Study Group with Cari Taplin - July 2020
Tackling Tough Research Problems with Kimberly Powell - GRIP July 2020
Researching Family in Pennsylvania - Historical Society of Pennsylvania August 2020
ProGen 49 - Currently enrolled
Degrees

Masters (Music Education)

Repositories

Niagara County Genealogical Society Library

Lectures

* Beginning Genealogy
* Newspapers: Above the Fold, Your Ancestors in the News
* The D in B-M-D
* Genealogy Lineage Societies
* Getting Acquainted with the Genealogical Proof Standard (GPS)
* Beginning Genealogy: Vital Records
* Sanborn Fire Insurance Maps for Genealogy
* New York State Vital Records
* New York State Censuses: You Won't Believe What's Hiding In There!
Affiliations

Leadership:
Niagara County Genealogical Society (NCGS): Board Member, Vice President, Program Chair 2013 - present; Chairman of the Board 2020 - present.

National Society of the Daughters of the American Revolution Niagara Falls Chapter (NSDAR): Registrar 2020 - present.

Western New York Genealogical Society (WNYGS): Board Member 2021 and Program Chair - present.

Virtual Genealogical Society (VGA): Corresponding Secretary 2020 - present.


Membership:
Association of Profession Genealogists (APG)

National Genealogical Society (NGS)

New York Genealogical and Biographical Society (NYG&B)

Polish Genealogical Society of New York State (PGSNYS)

Buffalo Irish Genealogical Society (BIGS)
| | |
| --- | --- |
| Phone: | 716-622-2245 |
| Email: | jeanette@jeanettesgenealogy.com |
| Street Address: | |
| Address 2: | |
| City: | Lockport |
| State/Province: | New York |
| Country: | United States |
| Zip/Postal Code: | |