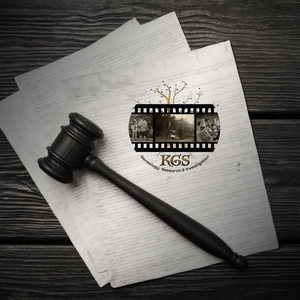 Specialist in Eastern European and European Genealogy
Business Name

Khuda Genealogical Services

Non-Research Specialties

Archivist
Author/Writer
Columnist
Compiler/Indexer
Conference Planner
Editor
Family Heirloom Preservationist
Historian
Instructor
Lecturer/Presenter - On-site
Lecturer/Presenter - Virtual
Oral Historian/Interviewer
Project Manager
Reunion Planner
Technologist
Transcriber
Translator
Travel & Tour Planner

Research Specialties

Adoption
Baptist
Cartography (maps)
Catholic
Children/Youth
Civil War
Colonial
Court Records
DNA Specialist
Dual Citizenship
Dutch Colonies
Emigration & Immigration
Federal Records
Forensic
French Canadian
German American
Government Publications
Greek Immigrants
Greek Orthodox
Heir Searcher
Holocaust
House Historian
Irish American
Italian American
Jewish
Land Platting
Land Records
Latter-day Saints (Mormon)
Lineage Societies
Lutheran
Migration
Military
Naturalization
Polish American
Presbyterian
Quaker
Rabbinic Judaism
Royal/Noble Families

Research Countries

Albania
Andorra
Belarus
Belgium
Bosnia and Herzegovina
Brazil
Bulgaria
Canada
China
Costa Rica
Croatia
Cuba
Czech Republic
Denmark
England
Estonia
Finland
France
Georgia
Germany
Great Britain
Greece
Hungary
India
Ireland
Israel
Italy
Kazakhstan
Latvia
Lithuania
Luxembourg
Moldova
Mongolia
Montenegro
Morocco
Netherlands
Northern Ireland
Poland
Portugal
Romania
Russia
Scotland
Serbia
Slovakia
Slovenia
Spain
Tajikistan
Turkmenistan
Ukraine
United Arab Emirates
United States
Uzbekistan
Venezuela

Research Time Periods

14th Century
15th Century
16th Century
17th Century
18th Century
19th Century
20th Century
21st Century
Alina Khuda has a BA (Hons) and MA (Hons) degrees in Social Studies and Politics, studied in the USA (sponsored by the US government).
She participated in GOI Peace Foundation and UNESCO projects from 2009.
Moreover she has an extensive experience as a court expert, probate genealogist and a forensic genealogist from 2015. Established KGS (Khuda Genealogical Services) in 2016.
She is an expert criminal genealogist for USA courts and a course editor for the University of Genealogical Studies in Canada. With a sufficient experience in journalism Alina and her team provide search of unknown relatives and missing beneficiaries for estates in the USA, Canada, Australia, Germany, UK, EU.
An expert for genealogical data in the Eastern Europe:
Jewish Galician Records,
Orthodox Christian,
Old Believers,
Greek Catholic,
Roma Catholic,
Lutheran,
Mennonite records.
She did research for government, non-government organizations, attorneys, trustees, companies worldwide as well as numerous private clients. Member of the Association of Professional Genealogists and Genealogical Organization «Nashi Predky» (NJ, USA)
Services:
Record Search
Our most commonly used service is a record search and retrieval. Just get in touch and we can locate records on your ancestors.
Tracing Family History Internationally (Europe, USA, Canada, etc.)
We have a big network of researchers in almost all major countries.
Family History Research Services
A family history investigation is done by professional genealogists. What can be a better gift for the anniversary?
Family Tree Building Services
The family tree building is one of our top services and if you are uncertain about documents that you have or willing to dig into the family history more deeply –just get in touch with our experts!
Heir Search
Usually performed at times when someone dies with or without a will. Our team of experts has a big experience for searching missing beneficiaries and charge some of the lowest fees in the industry.
Document Retrieval
If you're looking for a specific document, such as vital records, birth certificate records, etc., from a specific archive or government center, we can help. We can schedule an on-site visit and retrieve the document you request.
Our genealogists are specializing in various areas of expertise. It's important to hire a genealogist who has past experiences in the area you're acquiring.
Moreover, we have a large network of onsite genealogists worldwide.
Consultation
You can choose 1 or 1,5 hour consultation to discuss up to three research questions. Please provide us with information before your consultation starts: time period, religion, location, and your research goals.
Video conferences at court
Lectures for Family Reunions
Providing a Research Plan for your personal research. If you wish to move forward yourself – get a personalized research plan from a professional genealogist.
"Field research" – visiting your ancestral town and communicating with locals. We can take photographs of your family home, locate graves, churches, gravestones and make a photocopy for your records.
Translation, transcribing records from Slavic languages to English/German.
Search and prepare documents for dual citizenship and other Genealogy Related Services upon request.
Geographic Specialties
Austria-Hungary, Ukraine, Russia, Belarus, Moldova, Lithuania, Poland, Romania, Slovakia, Slovenia, Eastern Europe, Latvia, Estonia, Germany, Ireland, Greece, Kazakhstan, Turkmenistan,Middle Asia
Degrees

BA (Hons) and MA (Hons) from National University of Kyiv Mohyla Academy, Master from Nationalal University of Taras Shevchenko, Kyiv

Languages

American English,British English, Ukrainian, Russian, English, German

Repositories

Eastern Europe, Western Europe

Lectures

Studying Genealogy on the e.g. German Colonies located on the territory of modern Ukraine Comparative Analysis of access to Archive sources in Ukraine, Russia, Belarus
Transcription of Cyrillic Records for Beginners;
Transcription of Cyrillic Records from Intermediate to Advanced levels.
Latin and Cyrillic Records in the Eastern Europe.
| | |
| --- | --- |
| Phone: | |
| Email: | khudalina@gmail.com |
| Street Address: | |
| Address 2: | |
| City: | Dublin |
| State/Province: | |
| Country: | Ireland |
| Zip/Postal Code: | |