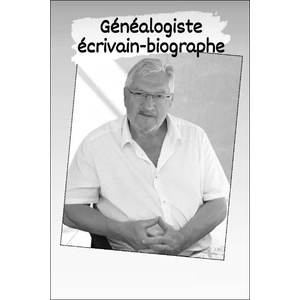 Unraveling Roots & Capturing Lives: Expert Genealogist and Biographical Writer in Anjou, Western France
Business Name

Alain Bernard Carton E.I.

Non-Research Specialties

Blogger

Research Specialties

Adoption
Catholic
Colonial
Court Records
Emigration & Immigration
French Canadian
Historical Sites
House Historian
Land Records
Military

Research Countries

Belgium
France

Research Time Periods

16th Century
17th Century
18th Century
19th Century
20th Century
21st Century
Saint-Lambert-la-potherie, Maine et Loire, France, Metropolitan
Hello, I am a professional family genealogist and biographical writer in France. I offer my services to help individuals discover their family history and roots in France. With years of experience and an in-depth knowledge of French documentation and archives, I can help you trace your family tree and discover information about your ancestors. If you're looking for answers about your French family, don't hesitate to contact me. I'm here to help.
Degrees

Professional Genealogist
Biographical Writer
Family Historiographer

Languages

Français

Repositories

Archives and Libraries - ANOM Archives, National Archives of France, National Library of France, Defense Historical Service, Police Prefecture Archives, Diplomatic Archives, Hospital Archives, Diocesan Archives of Angers, Study of the tourist plan of the Vendée War in Anjou, ...

Testimonials

Testimonial for a Comprehensive Genealogy of Arthur Ch...

Thank you for enabling me to discover my family and opening a world that I would have never known without your assistance. The books that resulted from this journey have also allowed me to share these discoveries with cousins and strengthen family bonds. Now, I will be compelled to organize a family reunion.

Publications

Private edition works
Family history "CARTON-GÉRODON," and "ROLLAND" family, and numerous other publications for my clients over several years.
Affiliations

Upro-G , Biographicus., A.Gen.A, A.D.F.A., And H.P.S.L.P.

Blog
| | |
| --- | --- |
| Phone: | |
| Email: | abcarton49@gmail.com |
| Street Address: | 13 rue Lucie et Raymond Aubrac |
| Address 2: | |
| City: | Saint-Lambert-la-potherie |
| State/Province: | Maine et Loire |
| Country: | France, Metropolitan |
| Zip/Postal Code: | 49070 |