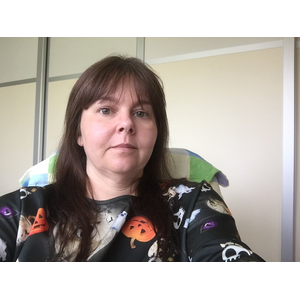 Genealogy and history are so important to me. I love learning about ancestors and the lives they lived and their world around them.
Business Name

Family History Research England

Non-Research Specialties

Photographer
Transcriber

Research Countries

Great Britain

Research Time Periods

18th Century
19th Century
20th Century
Dronfield, Derbyshire, United Kingdom
I've been fascinated by all things history for as long as I can remember. This followed me throughout my education and thus I studied A Levels in both Archaeology and History, so it was only natural that I eventually found my way to genealogy. I first started out researching my family in 2008 and since then I've become addicted and now have a diploma in Genealogy. I wanted to know more about my Grandma who I never knew as she died far too young before I was born. I thought her line of my family came from Peterborough, Northamptonshire, but as I dug further back I found her father came from Worksop, Nottinghamshire and his father came from Eckington, Derbyshire. At present I ve researched her branch of my family back to 1600 in Baslow, Derbyshire. At heart I m Yorkshire born and bred being born in Sheffield although I m now Derbyshire based, but my research has taken me all over Yorkshire, Cheshire, Derbyshire, Staffordshire, Lincolnshire, Norfolk, Suffolk, County Durham, Northumbria, Renfrewshire, the USA, Canada and even Lancashire which as a proud Yorkshire lass was a shock! I love the thrill of finding out where individuals ancestors came from. It doesn't matter if their my ancestors or a clients I still get just as excited by my discoveries. It fascinates me how in such a few years a family can change and develop. It also astounds me how many children some families had, the most I've ever found was 20!
Services
Family History Research England specialises in unlocking families histories throughout England and Wales. I offer a range of packages all based on carrying out research in England and Wales starting from just 175. Scottish records can be search but this will be charged at a different price and will be discussed in advance (this is because the Scottish records are charged at a pay per view rate rather than as a yearly subscription). I also offer an hourly rate of 20 or 120 for 7 hours, for archive look ups or photographing memorials etc. (both within South Yorkshire and Derbyshire counties of England, others by request and all costs quoted in advance)and for one off look ups such as the 1939 register and pre 1911 records.
Geographic Specialties
British Isles, England, Scotland, Wales
Degrees

MSc (International Conference Management), BSc (Hons) (Technology with Business Studies)

Testimonials

"Trying to research UK records from the USA is very difficult. A UK researcher is a necessity - and I can strongly recommend Sarah. She was prompt, VERY responsive, provided me with great ideas on her own, and was very affordable. If you've got British links to find, ask Sarah to help you find them. I will definitely enlist Sarah again in the future".
Thanks to Curtis from Colorado, USA for this review
| | |
| --- | --- |
| Phone: | 07910711440 |
| Email: | sarah@familyhistoryresearchengland.co.uk |
| Street Address: | 39 Hogarth Rise |
| Address 2: | |
| City: | Dronfield |
| State/Province: | Derbyshire |
| Country: | United Kingdom |
| Zip/Postal Code: | S18 1QG |