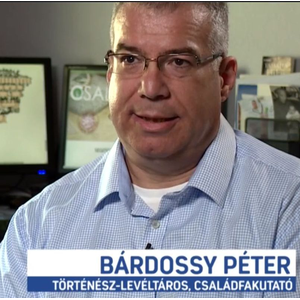 owner, CEO
Business Name

HungaRoots Ltd.

Non-Research Specialties

Archivist
Historian
Reunion Planner
Translator

Research Specialties

Heir Searcher
Heraldry (coats of arms)
Holocaust
Migration
Royal/Noble Families

Research Time Periods

18th Century
19th Century
20th Century
Services
If also You would like to know the history of Your family, You are curious to know Your origin, Your ancestors, or Your relatives, who live also today, but You are not acquainted with them until now, we offer You our services to complete Your family tree.

On the basis of the found registry and other data we will arrange the individual members of the family in a family tree, both in printed and in digitalized form. The completed family tree can be later on supplemented or modified, as You like it.

A supplement of the research in the registries can be - firstly in case of noble families- the research in the archives, in the course of which the property status of the researched person, or family, family happenings, etc. can be followed. In lucky cases there are correspondences, or litigation records existing, which may provide much more detailed information to the researcher.

Research after the Jewish families can usually be carried out until the middle of the 19th Century, since registries were obliged to keep as of that time. There are some exceptions, as well, where the local rabbi recorded the data afterwards, retrospectively, as well.

Inheritance Transactions, Inheritance Research. We can provide assistance in researching the heirs of those who emigrated from the territory of the historical Hungary, in the course of which we can be supported with our ever enlarging data base and the wide connection system built up in the course of our completed researches.

Our services expand on the genealogy research, on supplying, translating and verifying documents, which certify the legal base for inheritance, and if required, we provide assistance also in that the heir his inheritance can receive with the smallest possible costs and within the shortest possible time. We engage ourselves to keep the secrets arisen during the course of the affair with regard to the person of the heir and the inheritance. Since a research may be also expensive and time-consuming, we count only minimal cost allowances together with undertaking the commission. Our fee – above the minimal cost allowance – equals to some per cent of the inheritance, what includes the allowance fares generally rising in connection with the research after the legacy.
Geographic Specialties
Austria-Hungary, Croatia, Hungary, Romania, Slovakia, Slovenia, Eastern Europe
Degrees

Diploma in Management Studies (Oxford Brookes University), Philologist in History Studies (University of West Hungary)

Languages

hungarian, english, german, slovakian
Affiliations

Member of the Hungarian Genealogical and Heraldical Society. Member of the Hungarian Historical Society. Member of the German Family Tree Researcher's Society in Hungary.
| | |
| --- | --- |
| Phone: | +36209690422 |
| Email: | peter@bardossy.hu |
| Street Address: | |
| Address 2: | |
| City: | |
| State/Province: | |
| Country: | Hungary |
| Zip/Postal Code: | |