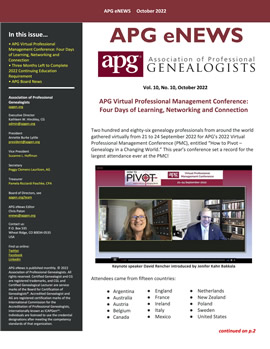 APG eNews connects our members with timely information about relevant issues, recent trends, and other goings-on in the world of professional genealogy. In addition to news about our members and the association, each issue of the APG eNews features items such as learning and career opportunities, calls for lecture proposals, and tips on topics relevant to our profession. Our monthly e-newsletter is FREE to members of the Association of Professional Genealogists. Back issues of the eNews are available to members.
Not a member? We invite you to check out APG's monthly e-newsletter, APG eNews—your go-to resource for association news, industry trends, genealogy events, and career development opportunities.
September 2023
August 2023
July 2023
Contribute to the eNews
APG's strength lies in the connection and contributions of its members. The APG eNews is written for our members, and we all benefit from hearing about the activities of our members, chapters, and SIGs, as well as other items of interest relevant to the professional genealogy community.
Please direct all news items to the APG eNews editor at admin@apgen.org. Those interested in writing a Pro Tip article should contact the editor to discuss ideas. Writers are compensated for Pro Tip articles.
Questions or suggestions? Please contact the APG eNews editor.
Advertise in the eNews
Share your business or service with our extensive network of over 2,200 professional genealogists from more than forty countries around the world. See our advertising rates.