Welcome
"Reset, Refresh, Refine Your Genealogy Career" at the APG 2023 Professional Management Conference!
In 2022, we learned "How to Pivot." Now in 2023, as libraries, repositories, county offices, and courthouses are opening back up, it's time for you to get out and "Reset, Refresh, Refine Your Genealogy Career."
Join APG for 3 FULL DAYS of networking and presentations designed by genealogy professionals for professionals, 19–21 October 2023, in-person in Salt Lake City or virtually on Whova.
Learn innovative business practices and ideas you can implement immediately to directly benefit your career and network with genealogy pros from all over the world.
APG is pleased to announce that Judy G. Russell, JD, CG®, CGL℠, will deliver the keynote address at the 2023 PMC, "Reset, Refresh, Refine Your Genealogy Career."
Known by many around the world as 'The Legal Genealogist,'  Judy G. Russell is a genealogist with a law degree, and an educator who provides expert guidance through the murky territory where law and family history intersect. Judy will share her own inspiring story of resetting and refining her own genealogy career many times over—and why it is so very important to stop and smell the roses.
The complete program for the 2023 PMC is now available! Whether you are just beginning your career or are a seasoned professional, the 2023 PMC program has content that will help you "Reset, Refresh, Refine Your Genealogy Career."
Over the course of 3 days, attendees will hear from well-known genealogy professionals from around the world on a variety of topics, including:
Business Management & Planning
Finding Your Niche
Forensic Genealogy
Marketing & Sales
Product Diversification
Project Management
Speaking & Lecturing
Writing & Publishing
Presentations will be 75 minutes each – a 60-minute presentation allowing for in-depth exploration of the topic, followed by a 15-minute question and answer period. Closed captioning will be available for virtual presentations.
View PMC In-Person Program          View PMC Virtual Progam
APG is pleased to offer three in-person workshops this year. Each workshop will be 2½ hours long providing plenty of time for interactive and actionable learning. There is a nominal fee of  $20.00 per workshop, in addition to the PMC registration fee.
Workshop attendees must be registered for the PMC in order to participate. Seats will be limited; please see workshop descriptions for capacity numbers.
Workshops will not be recorded.
Early bird rates expire on 17 September 2023 at 11:59 p.m. US Eastern time. [Worldwide equivalents]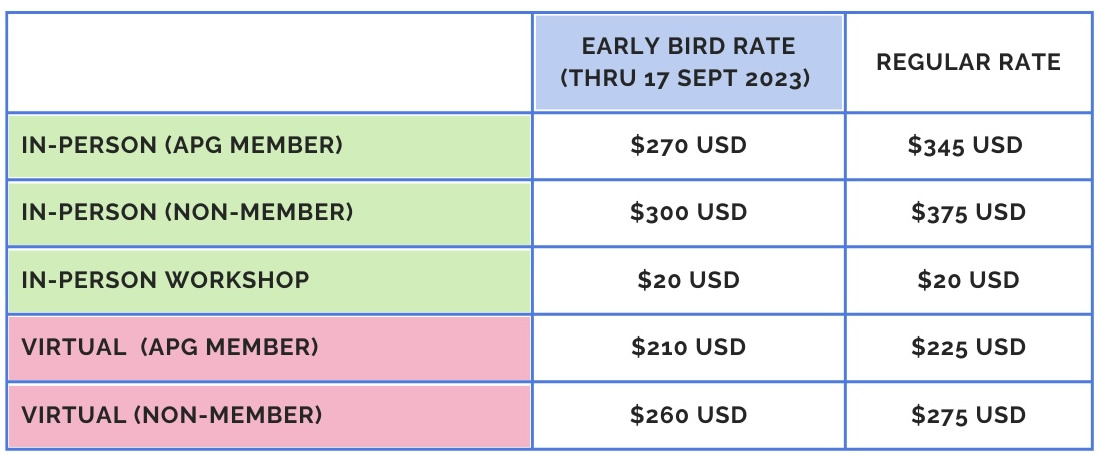 What's Included with Your PMC 2023 Registration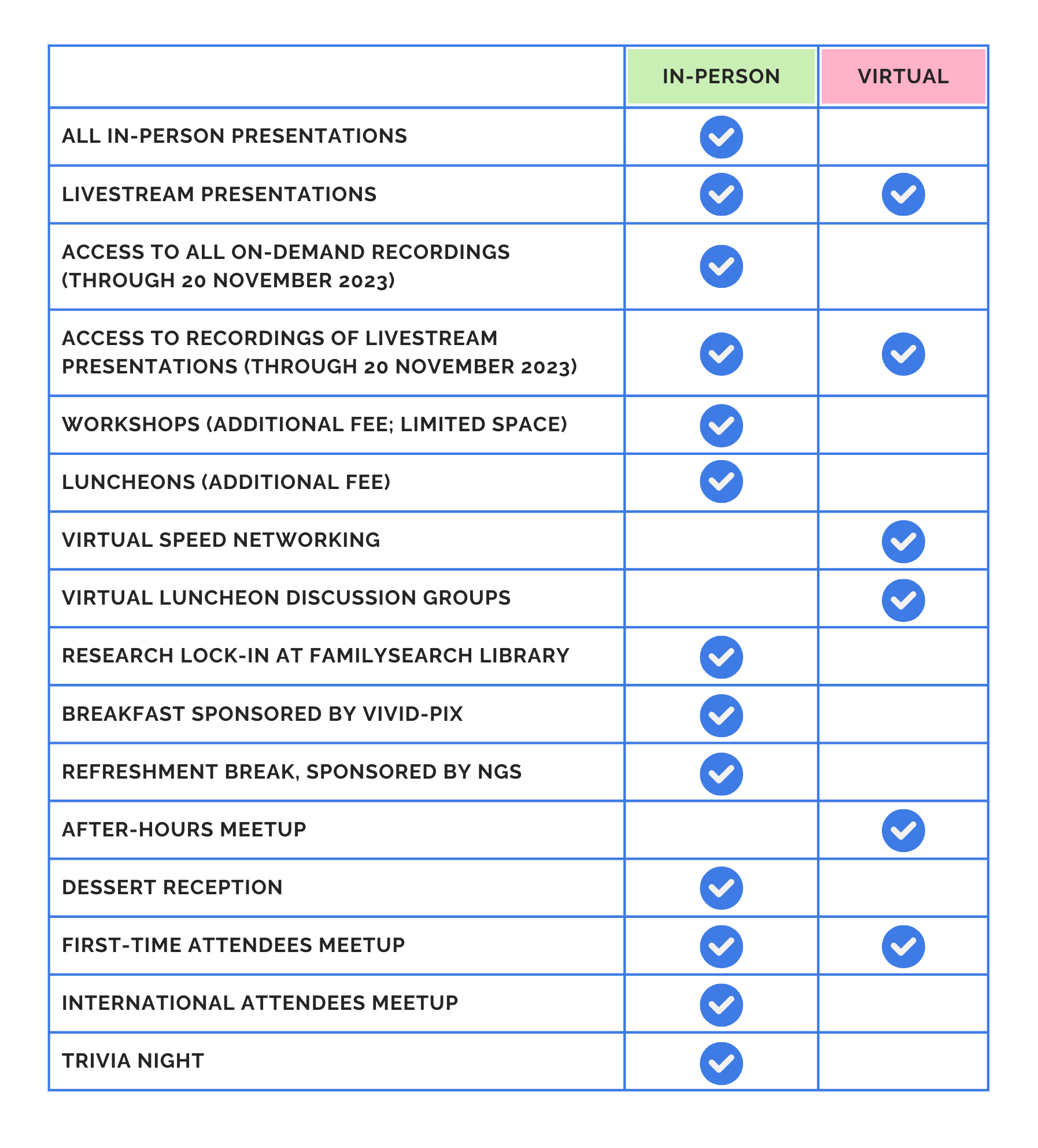 In-Person sessions include:
Entire 2023 PMC program, including 3 exclusive in-person-only presentations that will not be livestreamed or recorded:

"The Good, the Bad, and the Beautiful" with Jessica M. Taylor, President & CEO of Legacy Tree Genealogists (luncheon presentation, additional fee)
"Developing a Publishable Case Study from Client Research" with Nancy A. Peters, CG®, CGL℠
"The Undersigned Verifies: Genealogy Reports and Affidavits for Attorneys" with Catherine B. W. Desmarais, CG®

Optional workshops and luncheons (additional fee; workshop space is limited)
Virtual sessions include:
Access to 12 presentations:

"Welcome" with Annette Burke Lyttle, APG President
Keynote: "Reset, Refresh, Refine… and Smell the Roses" with Judy G. Russell, JD, CG®, CGL℠
"TikTok & Other Social Media for Genealogists" with Nefi Arenas, AG®
"AI and Technology" with Fiona Brooker
"Introduction to Forensic Genealogy: Where Law and Genealogy Intersect" with Kelvin L. Meyers
"Investigative Genetic Genealogy" with David Gurney, J.D., PhD
"Creating User-Friendly Client Reports that Incorporate DNA Analysis" with Diana Elder, AG®
"Partnering with Public Libraries as a Marketing Strategy" with Emily Schroeder
"Resetting Your Digital Life: Decluttering and Detoxing for Genealogy Professionals" with Cathie Sherwood
"From Passion to Profession: Strategies for Branding and Community Building" with Taneya Koonce, MSLS, MPH
"Take Control of the Chaos: Getting your Genealogy Business Organized with Project Management Software" with Linda Yip
"The Future of APG" with Annette Burke Lyttle (Pre-recorded)
"Preparing for Your Marketplace: Setting Realistic Fees" with Elissa Scalise Powell, CG®
"Bringing Stories to Life Without Overstepping the Truth" with Rhonda Lauritzen
Watch and participate during livestream presentations each day or catch up and watch these virtual sessions on the Whova platform on your own schedule until 20 November 2023.
This year there will be no on-demand recording sales after the PMC. Presentations will be recorded, except the three noted above, but access is determined by registration type. Virtual registrants have access to the recordings as listed in the Virtual Sessions section above. In-person registrants have access to all recordings.  Recordings will be available until 20 November 2023 on the Whova platform.
The PMC will be held at the Radisson Hotel Salt Lake City Downtown located at 215 West South Temple, Salt Lake City, Utah 84101. Registrants will receive information about how to make hotel reservations in the confirmation email following the completion of registration. The email subject line will be "Registration Confirmation - In Person (or Virtual) APG 2023 PMC: Reset, Refresh, Refine Your Genealogy Career".
For information about sponsorship, contact Pamela Israel at admgr@apgen.org.