Welcome
The Association of Professional Genealogists (APG) welcomes you to the first virtual Professional Management Conference (PMC).
This year's conference focuses on the different types of genealogy businesses.  The conference is open to APG members and non-members alike.
We all recognize that COVID-19 changed businesses. Genealogy is no exception.  If we want to continue and grow, we need to change, modify, and adapt.  Our speakers plan to offer you tools to help you do just that.
To cause the least disruption, the PMC is using the virtual setting and coming to you in three sessions–two days each in August, September, and October. During this time, we will gather to learn, share, and enjoy the business of genealogy!
While we encourage you to attend all three sections of the PMC, we are offering different options to fit your schedule. Attend all three sessions (24-25 August, 21-22 September, and 19-20 October or choose from either August and September (10 lectures) or September and October (12 lectures).
Closed Captioning will be available via live Zoom captioning and on the archived recordings.
The Association of Professional Genealogists is pleased to announce that we will record all sessions. Each attendee will receive a link to the recordings that is valid for ten days. This will allow attendees to review a session or watch a session that they missed. The recorded sessions offer closed captioning.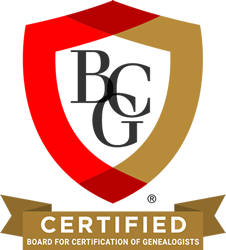 Silver Partner
Dates to Remember
Early Bird Registration Closes:
15 July 2021
Registration for the full Conference Closes:
20 August 2021
Registration for the August/September Option Closes:
20 August 2021
Registration for the September/October Option Closes:
10 September 2021
Recordings Sales Close:
15 April 2022