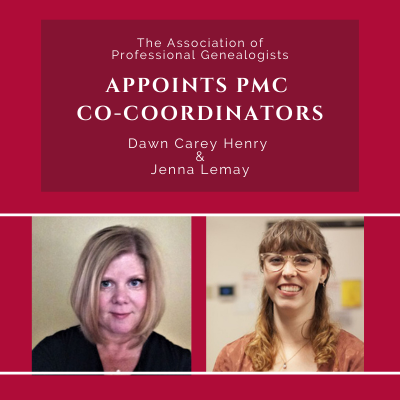 The Association of Professional Genealogists (APG®) is excited to announce the appointment of Dawn Carey Henry and Jenna Lemay as PMC Co-Coordinators. As Co-Coordinators, Dawn and Jenny will lead the 2022 and 2023 conferences.
Dawn Carey Henry is a professional genealogist and founder of Discover Your Roots, a family history and genealogical research company. Dawn is an experienced event and conference planner who has successfully designed and coordinated many genealogy events, including multiple conferences for the Illinois State Genealogical Society and the Fox Valley Genealogical Society.
Jenna Lemay is a professional genealogist and digital archives technician at the Shingwauk Residential Schools Centre in Ontario, Canada. Jenna is currently involved with planning the annual conference for the Archives Association of Ontario where she is working with businesses to help bring the conference a local feel despite its online nature.
"As your Association continues to envision its future, I'm especially pleased to welcome Dawn and Jenna as our new conference coordinators," said APG President David McDonald. "I'm looking forward to their work in making our Professional Management Conference the premier event for genealogy professionals. Their interests, experience and abilities in the tasks before them will make the PMC a "must-see" event that is worth our members' time and treasure. We're fortunate to welcome them to the task!"
As PMC Co-Coordinators, Henry and Lemay will be responsible for producing the Professional Management Conference from concept through completion. Their leadership, oversight, and coordination of the conference will anchor the association's educational offerings and provide interaction and networking for professional genealogists. Their insights as professional genealogists and members of APG paired with their conference planning experience will pave the way for successful Professional Management Conferences.